Venture Capital for Dual-Use SBIR companies during COVID-19 Pandemic
NavalX, Empowering our Workforce Virtually, is sponsoring a webinar on COVID-19 and Venture Capital (SBIR) to be held Tuesday, April 7, 2020 at 8:00am Eastern. The webinar is free but you must register at www.eventbrite.com/e/covid-19-and-venture-capital-sbir-registration-101890009762

The webinar will be conducted by Dr. Robert Mittendorff of Norwest Venture Partners. Robert has valuable insights to share related to venture funding for dual-use technologies, with specific attention to the current funding climate and advise to companies during the COVID-19 pandemic. [more..]
SBA Issues Guidance for Small Businesses Impacted by Coronavirus
The SBA has issued guidance for small R&D businesses interested in SBIR/STTR as it relates to COVID-19 impacts, changes and opportunities. This information is available here at navysbir.com/SBA-COVID-19.htm

The SBA has also created a new website addressing Coronavirus (COVID-19) including Small Business Guidance & Loan Resources. This site is for all small businesses and is not an SBIR/STTR specific website.

The website is available at:
www.sba.gov/page/coronavirus-covid-19-small-business-guidance-loan-resources
DoD 20.2 SBIR and 20.B STTR BAA Date Change
The dates for the upcoming DoD 20.2 SBIR and 20.B STTR BAA have been changed. The new dates are:



| | |
| --- | --- |
| Pre-Release: | May 6, 2020 |
| Opens: | June 3, 2020 |
| Closes | July 2, 2020 at 12:00 PM ET |

BAA dates are subject to change and are posted at:
rt.cto.mil/rtl-small-business-resources/sbir-sttr/
Posting of Navy FY-20.1 SBIR & 20.A STTR Selections Begins
In order to keep small businesses informed about the Navy's 20.1 SBIR & 20.A STTR proposal selection status, the Navy posts a list of SBIR/STTR "Selectees" as they are chosen.

A selectee is a company selected for further consideration, meaning that the proposal is of interest, but the final decision and contract negotiation is not complete. Being listed as a selectee on this web site is NOT a notification of contract award.

The list of selections is an ongoing process that may take a few months to complete. You can register your email address on the 20.A selection page to receive email notifications of updates to the lists. Your email address is not shared with anyone, and is deleted after the selection process is complete.

You can browse the Phase I Selections using the links below, and view earlier selections from the Browse Phase I Selections box on the right.
Changes to the DoD SBIR/STTR Website
Starting with the DoD 20.1 SBIR and 20.A STTR BAAs, the DoD's new SBIR/STTR website is located at:

DoD SITIS, Topics Search, and BAA Instructions are located at:

The DoD's old legacy SBIR/STTR website has been closed. This does not affect the various DoD agency component's SBIR/STTR websites such as navysbir.com

Previous Navy SBIR/STTR Topic information and search is available here at navysbir.com/previous.htm
Important Study on DoD SBIR/STTR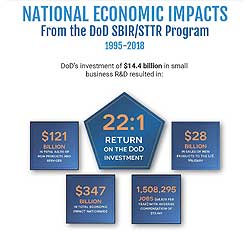 View / Download PDF Report
(8mb 50 page file)
This new and important study quantifies the DoD SBIR/STTR Program's overall contribution to the nation's economy and defense mission.

It examines the economic outcomes and impacts up to 2018 from DoD SBIR/STTR Phase II contracts initiated during the 1995-2012 fiscal year (FY) period, providing definitive answers to the question:
What resulted from the DoD's investment of $14.4 billion in small business R&D funding provided to companies nationwide via 16,959 separate SBIR/STTR Phase II contracts?

In all, this study presents the economic outcomes of 16,516 of the 16,959 DoD SBIR/STTR contracts--over 97 percent.

Navy Transitions Spotlight is Here!


The new Navy Transitions Spotlight Newsletter has just been released.

In this edition you will learn how the Navy's SBIR program helped Hydronalix, a small business, launch and mature EMILY (Emergency Integrated Lifesaving Lanyard), a life saving technology developed by Hydronalix.

This Navy Transitions Spotlight issue shows how SBIR investments to Hydronalix led to the development and refinement of the EMILY system, which is actively used as a lifesaving device around the world. With the help of SBIR, the EMILY technology continues to evolve and serve many additional needs and markets.


Posting of Navy FY-19.3 SBIR Selections


In order to keep small businesses informed about the Navy's 19.3 SBIR proposal selection status, the Navy posts a list of SBIR/STTR "Selectees" as they are chosen.

A selectee is a company selected for further consideration, meaning that the proposal is of interest, but the final decision and contract negotiation is not complete. Being listed as a selectee on this web site is NOT a notification of contract award.

The list of selections is an ongoing process that may take a few months to complete. You can register your email address on the 19.3 SBIR selection page to receive email notifications of updates to the lists. Your email address is not shared with anyone, and is deleted after the selection process is complete.

You can browse the Phase I Selections using the link below, and view earlier selections from the Browse Phase I Selections box on the right.


ASN (RD&A) Geurts Issues Memo on Small Business Utilization for a Strategic Advantage


James Geurts, Assistant Secretary of the Navy for Research, Development & Acquisition (ASN (RD&A)) brings to Naval warfighters his rich SOCOM experience in delivering innovation, faster, through new collaborations and inventive practices.

Mr. Geurts' most recent guidance to DoN acquisition teams on small business and SBIR/STTR conveys the imperative role Small Business play as DoN team members and their contribution to DoN's success in meeting the National Defense Strategy (NDS). As such, the instruction calls for Acquisition Commands and Program Executive Officers (PEOs) to prioritize utilization of Small Business and includes these critical SBIR/STTR points:

DoN acquisition teams focus on reviewing and assessing SBIR/STTR capabilities in developing acquisition strategies - and such strategies should address incentives for SBIR/STTR use.
Acquisition Commands and PEOs should leverage "agile, time-saving authorities" of the Phase III award process - without further competition - where this action meets performance and affordability mandates.
The memo concludes with an emphatic challenge: "Enhanced implementation of the Small Business Program will require .changing the way we do acquisition."

National Economic Impact Report of the Navy
SBIR/STTR Program FY-2000-2013


The Department of the Navy (DON) SBIR/STTR leadership commissioned a study to measure commercialization and related economic impacts of nearly $2.3 billion in DON SBIR/STTR Phase II contractual investment over FY2000 - 2013.

During that period, DON SBIR/STTR made 2,734 separate Phase II awards to 1,199 small businesses in virtually every U.S. state. Some of the findings include: [read more...]

The 6 page brochure can be downloaded below:

Required Cyber Security Certification:
What You Need To Know


On November 4, 2010, the President signed Executive Order 13556, Controlled Unclassified Information (CUI). This established a government-wide CUI Program to standardize the way the Government (and Government contractors) will handle unclassified information that requires protection. The guiding document for this endeavor is NIST Special Publication 800-171.

Full compliance of NIST SP 800-171 is required no later than December 31, 2017. [read more...]
Navy Office of Small Business Programs
The Department of the Navy's (DON) Office of Small Business Programs (OSBP) promotes acquisition opportunities where small business can best support the needs and mission of the U.S. Navy.

The OSBP strives to support our Sailors and Marines by providing them with the systems, innovation, products and tools necessary to enable them to accomplish their mission and return home safely.

The Navy OSBP web site will provide you with information and links to find opportunities for small businesses to compete for providing products and services to the Navy and Marine Corps.

The OSBP web site is located at: www.secnav.navy.mil/smallbusiness/Pages/sbir-sttr.aspx
March 2018 - SBIR Fraud Case
San Diego Communications Company Pays More Than $12 Million to Settle False Claim Act Allegations Regarding Eligibility for SBIR Contracts - Learn More:
www.justice.gov/usao-sdca/pr/san-diego-communications-company-pays-more-12-million-settle-false-claim-act
SBIR/STTR
Next BAA
FY2020.2 /B
Subject to change


Release: 6-May-20
Opens: 3-June-20
Closes: 2-July-20

---

Past SBIR/STTR
BAAs





Browse Phase I
Selections

---

Quick Search
Recent Abstracts